Michael P. Atkinson actively participates in the cultural life of New York City and Brooklyn as a Hornist, Arranger, Conductor, and Composer.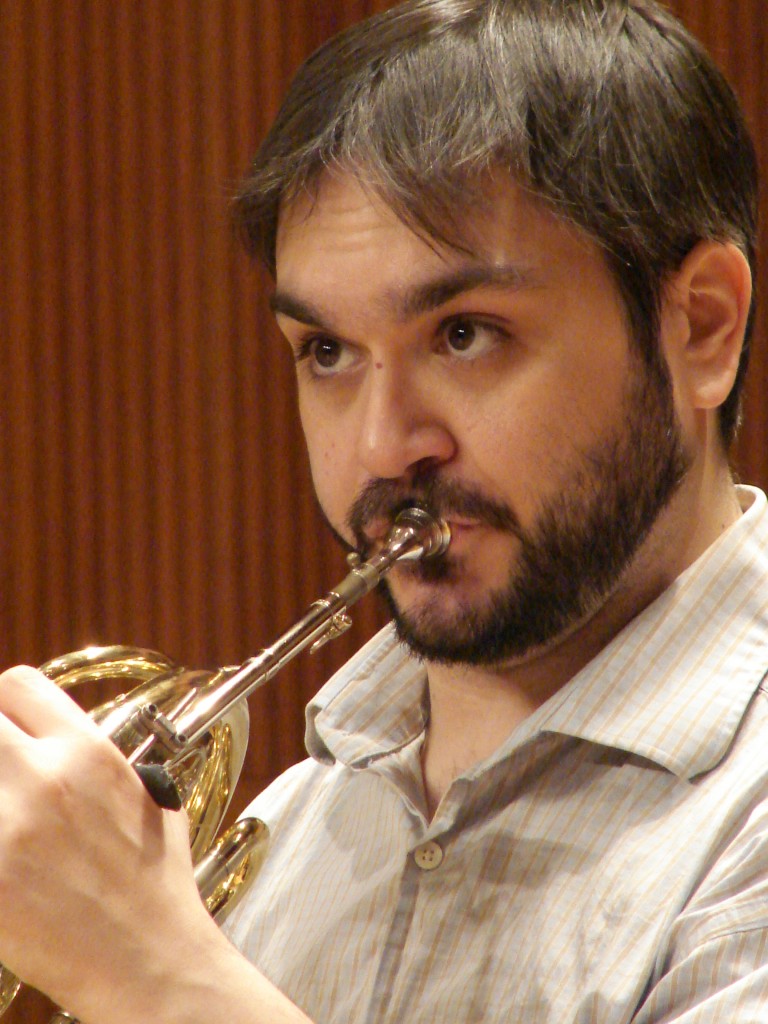 As Solo Hornist of The Knights, Michael has concertized in the US and Europe, and has appeared on numerous recordings, including two on two Sony Classical, two on Ancalagon Records, and a live concert DVD.  The Knights were also the subject of a September 2011 documentary on WNET, hosted by Paula Zahn.  The Knights were featured at the finale of the 2012 Ravinia festival on three concerts which included performances with soloists Yo-Yo Ma, Itzhak Perlman, and Dawn Upshaw.  These concerts were broadcast on Performance Today, hosted by Fred Child.  In addition to performing, Michael sits on the Board of Directors of The Knights.
The latest CD by The Knights is on Warner Classics, and features a collaborative work written by Michael and 6 other Knights.
In Janyary 2015, Michael recorded a new EP including original music and an adaptation of a work for flute and electronics by Mikael Karlsson.  Listen to it here:
In February 2014, Michael was invited to perform as guest principal horn with the St. Paul Chamber orchestra on a program of Beethoven, Schubert, and Prokifiev under the baton of Paul McCreesh.
On January 13, 2013, Michael was joined by Brooklyn Rider and others for a "well-chosen assortment" of chamber music on the Brooklyn Friends of Chamber Music series.  In July 2013, Michael and The Knights joined acclaimed tenor Nicholas Phan to perform Britten's Serenade for Tenor, Horn and Strings at the Naumburg Bandshell in Central Park, NYC and at the Ravinia festival.  In February 2014, Michael joined members of the Nunc Ensemble violinist Miranda Cuckson and pianist Blair McMillen to perform both the Brahms and Ligeti Horn trios at the Institute for Advanced Study at Princeton University.
A sought-after orchestral musician, he has performed with the New York Philharmonic, American Symphony Orchestra, Greater Bridgeport Symphony, Orchestra of St. Luke's, Washington National Opera, New Jersey Symphony, American Ballet Theater Orchestra, Orpheus, Harrisburg Symphony, Tokyo Symphony Orchestra, Shanghai Symphony, and the Shanghai Broadcasting Symphony Orchestra.  As a chamber musician, Michael has appeared with Chamber Music Society of Lincoln Center, International Contemporary Ensemble, Speculum Musicae, Ensemble Sospeso, Burning River Brass, and Wind Soloists of New York.
As a commercial musician, Michael has recorded for numerous Hollywood and Independent film projects, television commercials, and video game soundtracks. On Broadway, Michael has played in orchestras for many Broadway shows including Dr. Zhivago the Musical, Wicked, Disney's Aladdin, Phantom of the Opera, Grey Gardens, Young Frankenstein, The Mystery of Edwin Drood, West Side Story, and South Pacific.
Michael holds B.M. and M.M. in French horn performance from the Juilliard School, where he studied with Jerome Ashby and William Purvis.  As a younger horn student in Pittsburgh, he studied with Dennis R. Abelson and Howard Hillyer.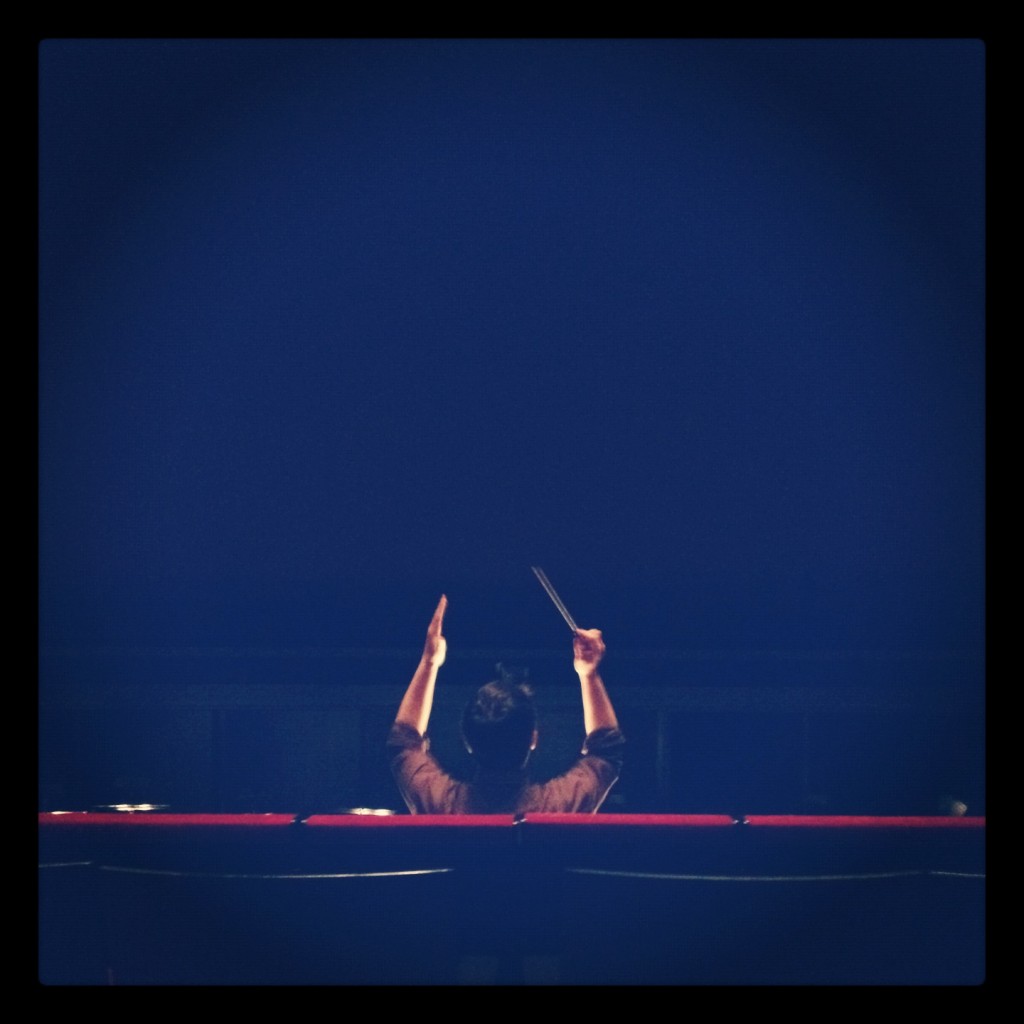 As an arranger, Michael has frequently worked with Sufjan Stevens. After performing on tours of Europe, Asia and the U.S., Michael assisted Sufjan in preparing the score for his award-winning symphonic film suite B.Q.E.  In 2008, Michael conducted the world premiere at the Brooklyn Academy of Music, celebrating the 25th Anniversary Next Wave Festival.  Michael was commissioned by San Francisco Ballet to reorchestrate B.Q.E. to accompany a new choreography by NYCB Resident Choreographer Justin Peck.  The new work, "In the Countenance of Kings" will premiere on April 7, 2016.
In 2007, Michael was commissioned to realize songs from Stevens' 2001 release Enjoy Your Rabbit for string quartet. Originally premiered at the 2007 Music Now! Festival in Cincinnati by the OSSO Quartet, these works have been recorded and released in October 2009, to critical acclaim.  These works would later capture the attention of NYC Ballet member and choreographer Justin Peck, and in 2011, Michael was commissioned by NYC Ballet to orchestrate seven movements from the album "Run Rabbit Run" to accompany a new ballet called "Year of the Rabbit."
In October 2012, Michael appeared as guest conductor to lead the world premiere performances of "Year of the Rabbit" at Lincoln Center's David H. Koch Theater.  New York Times Dance Critic Alastair Macaulay noted: "Michael P. Atkinson's orchestration, created specifically for the ballet, is a marvelous affair of radically opposed string sonorities, from slow portamenti and rustling scrapes to keen pizzicati and sustained legato. Here City Ballet's orchestra rises with relish to the stimulus of new work."
In May 2014, Michael was re-engaged by NYCB to conduct the world premiere and first run of the next Peck/Stevens collaboration: Everywhere We Go.  Michael was also co-orchestrator of the 45-minute original score in nine movements by Sufjan Stevens.
Elsewhere in the world of Ballet, Michael also co-orchestrated "A Swan Lake" (2014) and "Cow" (2016) with composer Mikael Karlsson and choreography by Alexander Ekman for the Royal Norwegian Ballet company.
Other Arrangements by Michael have been written for a wide range of genres and ensembles: American Folk trio I'm With Her, Annie Clark (St. Vincent), Bryce Dessner (The National, Clogs), Gabriel and the Hounds, and Takka Takka.  Soprano Dawn Upshaw sang Michael's arrangement of "I've Got You Under My Skin" on the finale concert of the 2012 Ravinia Summer Festival.  Michael's arrangements may also be heard on the debut album of Genghis Barbie, and Andrew Bove's Cimbasso D'Amore.
Original compositions by Michael P Atkinson have been heard in a wide variety of concert venues across NYC.  In May 2011, the woodwind quartet DZ4 presented "Turbulence" at the Tenri Cultural Institute.  On March 4, 2010, ICE Solo Hornist David Byrd-Marrow and Michael premiered his Duets for Horns, along with works of Grisey, Xenakis, Messian, Naulais, and Gareth Flowers.  "Trinity" was performed in June 2009 at the Chelsea Art Museum by Rachel Drehmann and the Manhattan New Music Project.  Presently, Michael is working on a self-produced EP which will feature original works and arrangements due for release by end of 2013.
For the latest updates, follow me on Twitter and Facebook!